Oyez, oyez, oyez!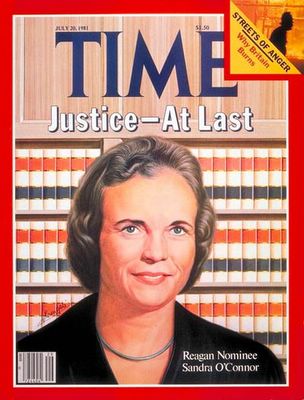 Oyez, oyez, oyez!
Sandra Day O'Connor
has decided to leave the high court (yes, the picture above is tricky). I don't feign enough knolwedge to make reasonable predictions or outline consequences of this event, so instead, I thought I'd just send y'all to places where those things are heartily going on.
From reading various news accounts, it is clear that this came as a surprise to both the White House and the news agencies. However, thanks to the Volokh Conspiracy linking to an article by
William Kristol
, I was not caught off guard. Prescient journalists are my favorite.
Non-Cassandra-like
journalists are not.
Orin Kerr has given us
13 haphazard thoughts
on this retirement.
Most newspapers have rather uninteresting accounts of this. The best of the bad are the
Washington Post
and the
NYT
, but even
they
can be problematic. And most accounts paint pretty flat portraits of an
interesting
, yet admittedly private,
person
. So to catch up, you can watch two C-Span videos of O'Connor
here
(scross down -- one under
Q & A Sessions with Justices
, one under
Profiles of Justices
. (But watch out; these videos are addictive and you can't just stop there.) And a good biography is
here
, at what may be perhaps my favorite website
ever
. And
SCOTUSblog
keeps us fresh and lively with observations and good links, like
profiles of potential replacements
. (To keep tabs on nominations, SCOTUSblog has started a
NominationBlog
.)
Okay I'm done for now. Exciting way to start the day.
UPDATE: This doesn't have anything to do with the SCOTUS, but: